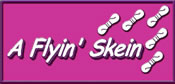 Contact:
216 4th Avenue
Seward, Alaska 99664-0048
907.224.KNIT
Website
Description:
A Flyin' Skein is a full service store, carrying a complete range of quality yarns, from affordable to luxury fibers. We offer a wide variety of knitting and crochet accessories.
This place was pretty busy when I stopped in. Most of the customers were locals. Wide selection of yarns and needles. Classes and events. Every thursday is "Knit 'til 9" from 5-9pm.